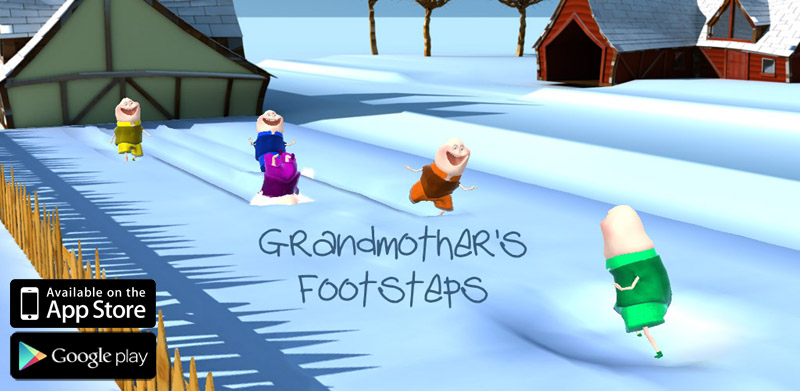 Get it on iTunes or Get it on Google Play
Grandmother's Footsteps plays as a party game, with each player tapping in one corner to make his character run, and holding to stand still when the person who's it turns around. When one player wins, he then controls the pace for all the other players on the next round. Although the game is the most fun to play with all your friends or family, the computer AI will take over a character after a period of inactivity, so when attention spans differ or the kettle is boiling, it's easy to take a break from an ongoing game for one of the contestants, and rejoining is as easy as tapping back in. With over 20 different ways of failing to stop and jovial characters, it's a nice and quirky take on the old classic schoolyard game.
Check out the Trailer below:


The game has many names and is played all over the world. It's known as Grandmother's Footsteps or What's the time Mr.Wolf in the UK, Red light/Green light or Statues in the US or Un, Deux, Trois, Soleil (one, two, three, sunshine!) in France for example.
-It's not always easy to stop:

About the creator:
Vegard Myklebust is a London based independent game developer and technical director. Working under the company name useful slug, he has previously helped create everything from award winning animated kids TV shows, to music videos, short films and games. In April 2012 he decided to try to fend for himself as an indie games developer. This is his second game to be released since then. In this title, Vegard created everything but the music, which was created by Hollywood based composer Haim Mazar.