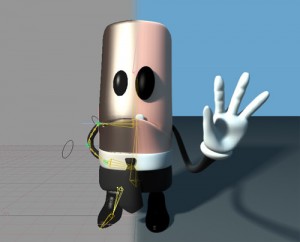 This tutorial takes you through setting up a bendy limb using flexmotion in messiah.
It gives solutions to among other things the bone flipping problem that can occur in the chain as well as show you how to set it all up. It also includes the finished tube character and rig.
Click the 'buy now' button to purchase it. It'll take you to our paypal website where you can pay using paypal or VISA/Mastercard. On successful payment you will be sent an email receipt from paypal and you will be able to go to a link for the download by pressing 'return to merchant.' The video tutorial is 23 minutes long and about 130 megabytes.